Welcome to Discount African Hunts
View Our Hunts
Featured Hunt
Rifle Only - 1X1 Only $4,900!
2023 / 2024
This buffalo cow management hunt allows you to take 2 buffalo cows at a low price. You will stay at a 4-star luxury tented camp. There is lots and lots of plains game on this concession, so you will see lots of animals while you are hunting your buffalo cows.
Get More Info on this Hunt
2023 Zimbabwe Wild Lion Special
18 Days including trophy fee!
Exportable to countries that allow wild lions in.
Only $40,554 including trophy fee!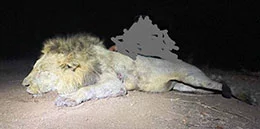 African Hunting Safaris
Going on an African hunting safari is one of life's last greatest adventures. As Col. Craig Boddington so eloquently stated, "That first African safari is a truly life-changing event that can never be recaptured... although many of us spend much of our lives trying to regain that level of magic and excitement." Whether it is a plains game safari or you start out hunting the big 5 or other dangerous game, the memories created by your safari will be unequalled by almost any other type of hunt.
South Africa and Namibia host the vast majority of the African continent's plains game safaris. With the adoption of the private ownership concept of game management, game ranches have sprung up throughout these two countries. The number of plains game animals in these two countries has grown into the millions as a result of this game ranching growth. Most hunters start out hunting plains game and then gradually transition to dangerous game hunting as their African hunting skills grow. Dangerous game hunting in Africa is the pinnacle of many hunters' accomplishments. Whether it is the taking of Africa's "Big Five" or stalking a trophy hippo or croc, the thrill and satisfaction of successfully challenging Africa's most dangerous animals cannot be equaled! Dangerous game hunting will take a hunter to many exotic remote locations that are seldom seen by civilized man. Once a hunter has experienced the thrill of staring down a roaring lion or faced the charge of a wounded Cape buffalo, their life will be changed forever.
Discount African Hunts can help take much of the uncertainty out of the process of selecting and planning African hunting safaris. With their wide network of contacts and experienced African hunting safari outfitters, Discount African Hunts can make sure that you are booking with quality outfitters that will help make your African dream hunts a reality!
We proudly support these organizations: